IAFF Headlines
Current news directly from IAFF locals, councils, and state/province associations in the US and Canada.
Fire Prevention Week Open House
09/28/16 - IAFF Local 1164
(Seven mile Road at Wayne Road) Fire hose target practice for the kids Games and giveaways Firefighter dress-up for the kids Cooking fire Demonstrations Fire Safety information Visit our station for a close-up look At firefighting equipment and vehicles. Call 734-466-2444 for more information. BRING YOUR CAMERA.
MPFFU Executive Board Meeting Minutes September 12, 2016
09/27/16 - Michigan Professional Fire Fighters Union
Caddo Parish Fire District 1 Recruiting
09/27/16 - PFFA
FF Paramedic Sean McMullin, IAFF Local 2665
09/27/16 - Missouri State Council of Fire Fighters
The members of the West County EMS & Fire Protection District, Board of Directors, and Members of International Association of Firefighters Local 2665 continue to mourn the loss of our dear brother, Firefighter/Paramedic Sean McMullin. Firefighter/Paramedic McMullin served the residents of our District for 14 years, prior to his death September 24th, 2016.
Breast Cancer Awareness T Shirts
09/27/16 - Waterbury Fire Fighters Association
October is Breast Cancer Awareness month... Waterbury's Bravest will be wearing their share of pink! Each year our members don the pink shirts to help raise money for Saint Mary's Hospital Foundations Early Detection Program. Help us help them by purchasing a pink fire department T shirt. T Shirts are $20 and they will be available beginning Friday Sept. 30.
September 27, 2016: Line Of Duty Death, Battalion Chief Fahy, Local 854
09/27/16 - UPFFA
The Officers & Members of the Uniformed Professional Fire Fighters Association of Connecticut offers our thoughts & prayers to our brothers & sisters of the Uniformed Fire Officers Association, Local 854, & Uniformed Fire Fighters Association, Local 94, on the line of duty death this morning of Battalion Chief Michael J. Fahy.
Kotraba Benefit
09/27/16 - IAFF Local 73
Passing of Retired FF Arthur Harris
09/27/16 - Randolph FireFighters IAFF Local 1268
Memorandum TO: Kevin McDonnell, President L1268 IAFF/PFFM FROM: Fire Chief Richard F.
Merrimack Open Position
09/27/16 - Professional Fire Fighters of New Hampshire
LETTER OF COMMUNICATION
09/27/16 - Cambridge Fire Fighters
TO: ALL PFFM Members FROM: The Office of the President DATE: September 26, 2016 RE: Death of Active Duty Member - Firefighter Greg Hawes, L2726 - Hanover, MA.
FEO Slavik Adoption Efforts
09/26/16 - IAFF Local 21
Saint Paul Fire Equipment Operator Jon Slavik and his family are currently in the process of adopting children from the Philippines. Please take time to read their story and if compelled make a contribution toward their adoption efforts. To learn more CLICK on the picture below.
Child in Need
09/26/16 - Newport News Firefighter's Association
Nate Manning's (9/B) 5 year old nephew & his mother were residents of the Williamson St Fire that completely destroyed the structure. They lost everything they had. We are seeking donations for children's clothes or toys to help them get back on their feet. His clothing size is 5 or 6 for pants, medium for shirts, & size 1 for shoes.
Hero's Haul
09/26/16 - IAFF Local 21
Have a Beer, Help a Child!
09/26/16 - Toy Program
Run Wild San(ta) Francisco
09/26/16 - Toy Program
San Francisco Firefighters Toy Program Annual Gala
09/26/16 - Toy Program
Fallen Fire Fighter Memorial Honors 123 in Moving Ceremony
09/26/16 - Albuquerque Area Fire Fighters
The names of 123 IAFF members who died in the line of duty and reported to the IAFF in the last year are now etched in granite, to be remembered forever by family, friends and fellow fire fighters in communities across North America.
CHILI COOKOFF
09/26/16 - IAFF Local 3169
Saturday, November 5th 10:00am - 5:00pm Marion County's 35th Annual Chili Cookoff!!! Come out and join Local 3169 win "again" as we cook up the "hottest chili". We will be holding our Local 3169 cooking prior to the cookoff at the Union Hall on Friday, November 4th.
Negotiations
09/26/16 - IAFF Local 3169
Union Members, Our negotiations team will begin workshops with the BCC's County negotiations team next month. We ask that you come to the regular scheduled Union meetings to hear updates and put input in during these times. We as an Executive Board will be making our rounds to stations for input into our future contract.
2016 Local 786 Golf Tournament
09/25/16 - IAFF Local 786
STAMFORD PROFESSIONAL FIREFIGHTERS LOCAL 786 GOLF TOURNAMENT - The 2016 Local 786 Golf Tournament will be held on Monday, October 3, 2016 at the E. Gaynor Brennan Golf Course on Stillwater Road. Registration/breakfast begins at 7:30 AM and shotgun start at 09:00 AM. Cost is $125 per person ($100 for 786 retirees). The application and flyer is attached below:
Important Local F-147 Updates and 2 New Voting Initiatives
09/25/16 - International Association of Firefighters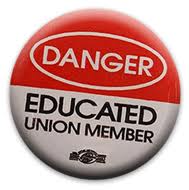 Active members, log in and read the article titled "September 26th, 2016 Update" in the President's Corner for important updates. After reading the article click on the "Online Voting" tab in the Member Resources section and vote for both new initiatives. Make sure you vote for each one individually.
2 Livonia Churchill freshmen in stolen Mustang killed in crash
09/25/16 - IAFF Local 1164
Two Livonia Churchill High School freshmen boys were killed Saturday in Plymouth Township after the stolen Ford Mustang they were in hit a minivan, rolled over and burst into flames, police said. The Wayne County Medical Examiner's Office confirmed the teens' ages as 14 and 15 but didn't release their names Sunday afternoon.
September 24, 2016: Line of Duty - Wilmington Firefighter's Association, Local 1590
09/24/16 - UPFFA
The Officers & Members of the Uniformed Professional Fire Fighters Association of Connecticut offers our thoughts & prayers to our brothers & sisters from the Wilmington Firefighter's Association, IAFF Local 1590 who lost two members this morning and others are in critical condition.
LODD Wilmington, DE L1590
09/24/16 - Pennsylvania Professional Fire Fighters Association
2 Wilmington DE firefighters lost their lives and 1 remains in critical condition following a house fire overnight according to news reports. As details become available, this article will be updated.
NKC Firehouse Chili Supper
09/24/16 - IAFF Local 42
Passing of Brother Scott Larue
09/23/16 - IAFF Local 1014
Results
09/23/16 - Laredo Fire Fighters
The results of the votes from the general meeting in September of the resignation of the union president are as follows. 5 Voided = 2.18% 12 For the resignation = 5.24% 212 Against the resignation = 92.
Things You Should Know
09/23/16 - Michigan Professional Fire Fighters Union
Recent legislation dealing with our 1st Amendment Rights to free speech has renewed debate about what we may or may not be able to say as public employees. Certainly when we are engaged in union activity we do have some protections, all though it seems less and less every year.
Denver Burn Foundation Payday Raffle Winner
09/23/16 - Denver Firefighters Local 858
The winner for today's Payday Raffle is Daniel Clay, E-3-C-shift, Congratulations! Mark your calendars today for the Fit for Fire 5K Run/Walk on Sunday October 9th at Washington Park.  This fun family event benefits the Denver Fire Fighters Burn Foundation, the Denver Fire Department Foundation and the Fit for Fire Skills Challenge.
Dean Delaney
09/23/16 - IAFF Local #1945
The following is a link to Dean Delaney's caring bridge page. There will be updates posted here by family members in regards to Deans process and family needs.  https://www.caringbridge.
Political Endorsements
09/23/16 - Professional Firefighters of Maine
2016 MSCFF General Election Endorsements
09/22/16 - Missouri State Council of Fire Fighters
Flu Shots
09/22/16 - Buffalo Professional Firefighters Assoc.
September 22, 2016 Flu Shots Flu shots should be performed at a Doctor's Office to be covered with no extra paperwork or cost to you. If given at a drug store (ex: Walgreens, Rite Aid), you will have to pay the cost upfront, then use the attached form along with the required paperwork in order to get your reimbursement from Blue Cross Blue Shield.
Our New Home
09/22/16 - Henrico Professional Firefighters Association
On October 5th and 6th at 1930 hours Local 1568 will begin conducting the monthly business meeting in our new union hall located at 908 E. Nine Mile Rd (Former Firehouse #3) in Highland Springs.
Mental Health Awareness Spouse and Partner Night
09/21/16 - International Association of Firefighters Local 1782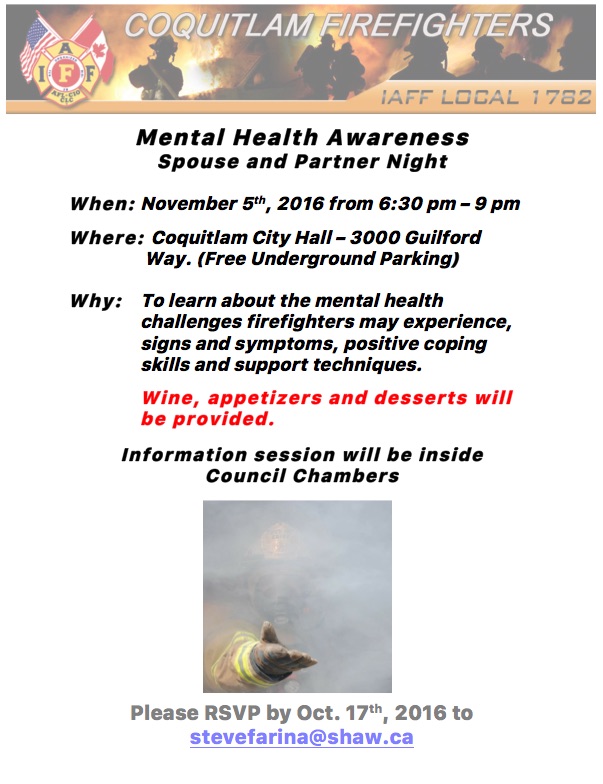 Mental Health Awareness Spouse and Partner Night When: November 5th, 2016 from 6:30 pm – 9 pm Where: Coquitlam City Hall – 3000 Guilford Way. (Free Underground Parking) Why: To learn about the mental health challenges firefighters may experience, signs and symptoms, positive coping skills and support techniques.
Two New FireFighters Sworn in
09/21/16 - Scranton Firefighters IAFF Local # 60
On Tuesday September 13, 2016 two new firefighters were sworn in by Mayor William Courtright.  They will spend the next weeks training at Harrisburg Area Community College in training.
Bolder Options Fundraiser
09/21/16 - IAFF Local 21
There is a T-shirt Kick off party on October 6th at Minnesota Music Cafe Featuring the band Harrison Street.
HELP Events, Oct. 1, 2016
09/21/16 - IAFF 1826
Candidate Surveys are now posted for download in the Downloads section of the site.
09/21/16 - IAFF 3718
Both surveys that we've sent to all candidates are available to download from the downloads section of this site. All candidates received a certified mail, paper copy and were emailed one also, if they chose an email option. Deadline to return the survey is October 1st.
General Membership Meeting Notice
09/21/16 - Detroit Fire Fighters Association
DVP Nominations for Districts 2, Assistant DVP and District 24, Alva
09/21/16 - IAFF 1826
Nominations will be accepted at the October 27th, 2016 Bi-Monthly meeting for the following positions: 1. District 2 , LCEMS, Assistant DVP, for the remainder of term, to commence on Nov. 9th. 2. District 24, Alva, DVP The October 27th, 2016 Local 1826 Bi-Monthly meeting starts at 6:30PM at the SWFL International Airport Training Center.
FITNESS EQUIPMENT UPDATE
09/21/16 - Cambridge Fire Fighters
September 19, 2016 Brothers and Sisters, Now that the summer is over, I wanted to give everyone an update on the Wellness/Fitness Fund. We spent the $15,000 that the City allocates for Fitness Equipment each fiscal year, and now have another $15,000 to spend before June 30th, 2017.
Cancer Awareness Shirt Campaign
09/21/16 - International Association of Firefighters Local 3453
The Allen Professional Firefighters Association (APFFA) and the Allen Fire Department (AFD) are excited to announce the start of the 2016 Charity T-shirt Campaign.   The APFFA will be selling pink breast cancer awareness shirts on their website, www.affa3453.com. Follow the link in the top left corner to the online store.
General Meeting
09/20/16 - Laredo Fire Fighters
Agenda for September's 2016 General Meetings Pledge of Allegiance Opening Remarks Open Discussion with Fire Chief S.
Contract Negotiations
09/20/16 - IAFF Local 4413
Negotiations will resume on 9/27 1pm @ Walton county admin building. All memebers are urged to show up. It is important that we have as many numbers at negotiations as possible.
Michael Mazza Memorial T-Shirts
09/20/16 - International Association of Firefighters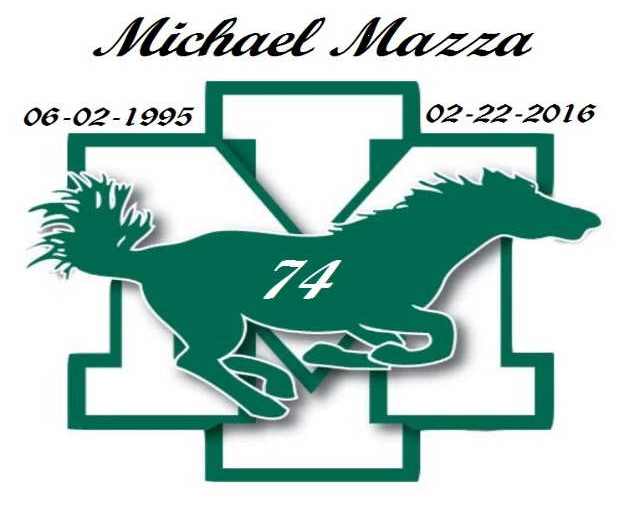 Battalion Chief Don Mazza (Ret) and family are making and selling t-shirts in honor of thier son Michael who passed tragically in February while attending Mount Ida college in MA. The money raised will help offset the student loan debt that the Mazza family must now pay. Please print and mail to the completed form to the Mazza family (address is on the form).
2017 Group Calendars and Updated Retirement Paperwork
09/20/16 - International Association of Firefighters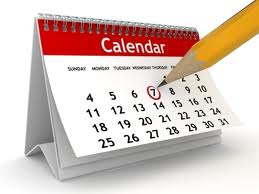 Group Calendars for 2017 are now available. Click on "2017 Group Calendars" to view and print. An updated version of the "Request for Retirement Annuity Computation" form is now available in the "Ready to Retire?" section. You must be within 5 years of retirement eligibility to file and may only file 1 request per year.
Headlines Provided By:
Profirefighter.com - IAFF Website Design, IAFF Website Hosting, 100% Union Made in the USA.
GrievTrac.com - Online Grievance Tracking Software, 100% Union Made in the USA.
UnionActive.com - Website Content Management System with Powerful Communication Tools for Union Website's, 100% Union Made in the USA.
IAFFLocals.com - Complete list of IAFF locals and websites plus featured content from IAFF locals around the US and Canada.
IAFFWebsiteDesign.com - IAFF Web Design, Specifically for IAFF Local Website's, 100% Union Made in the USA.